Thomas Merton Society of Canada events, please contact Judith Hardcastle, Program Director or Susan Cowan, Community Relations Director.
For more information:

604-988-8835 or email tmsc@telus.net.
Click here for 2023 Membership Brochure available here. JOIN TODAY!

---
2023
---

MERTON & JAZZ
Sunday, April 2 at 7:00 pm PST
Brentwood Presbyterian Church (1600 Delta Ave, Burnaby BC)

Upcoming event at Brentwood, in person and online: a Palm Sunday celebration of Merton and his favourite music, jazz. This year, Christian Morrison (founder and director of Sister Jazz Orchestra) will read merton and Quintessential Jazz will voice his love of jazz.

The live stream will be on www.brentwoodpcc.com. By donation.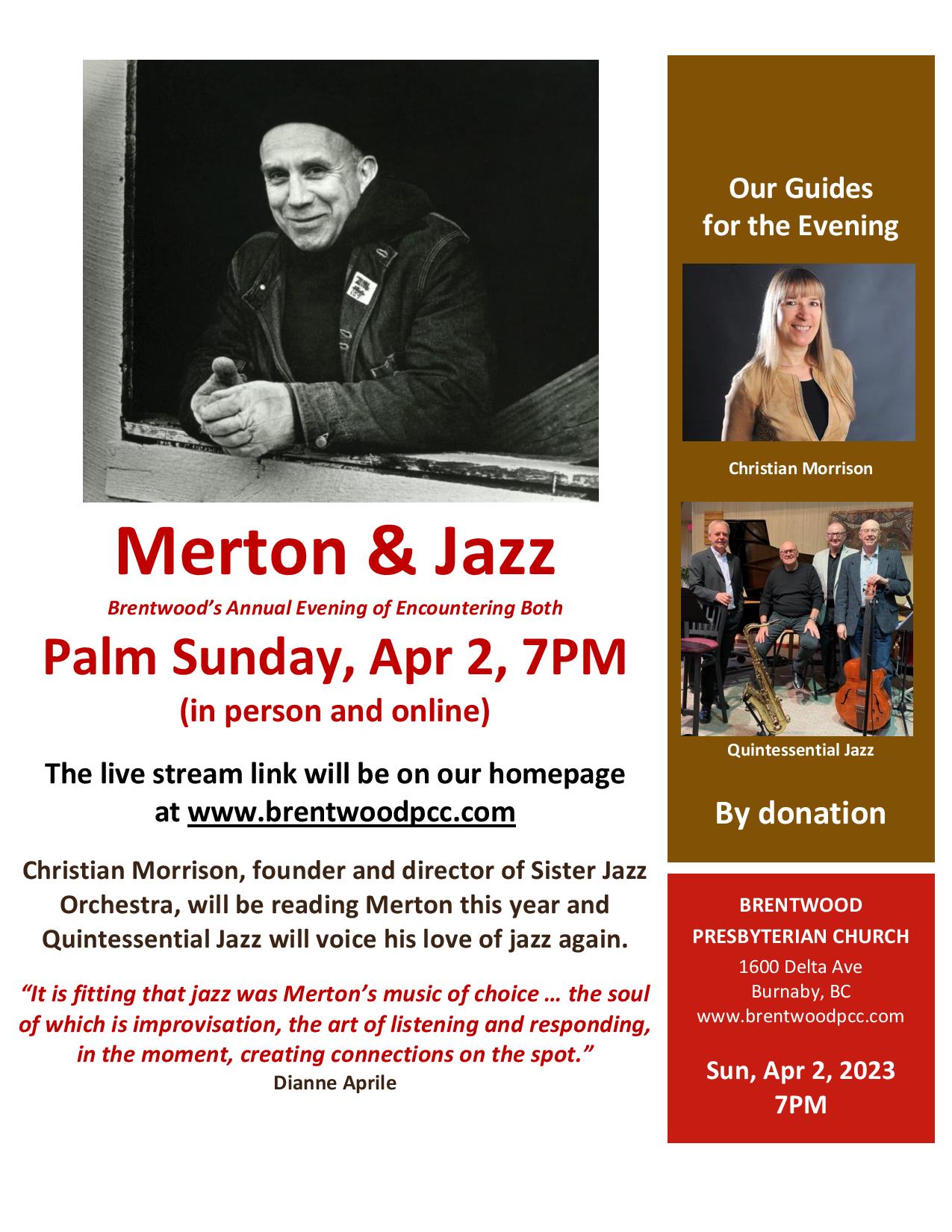 ---

PUBLIC TALK
Friday, May 26, 2023 at 7:00 pm PT Spirituality and Community in a Time of Loss
St. Andrew's United Church, 1044 St. George's Ave North Vancouver
Admission by donation

Doug Christie will examine the place of darkness in our lives and ask what it can mean for us to enter and inhabit this vast space of unknowing and discover there not simply bewilderment but something Thomas Merton called "the hidden ground of love."

ONE-DAY RETREAT
Saturday, May 27, 2023 from 10:00 am to 3:00 pm PT The Desert Within
St. Andrew's United Church, 1044 St. George's Ave North Vancouver

Cost:$60
To register: contact Susan Cowan at tmsc@telus.net or 604-988-8835
What does it mean to enter the desert? To seek "the desert within"—that vast open space the Christian mystics experienced at the very ground of the soul where the human person encounters the divine? This retreat will draw upon the image of the desert (long important to both Jewish and Christian religious identities and central to the Christian mystical tradition) to consider what it might mean for us to incorporate silence, stillness, and solitude into our own spiritual practices. And to ask how such practices can help us recover a sense of hope and meaning in a world that too often feels devoid of both.

Douglas E. Christie, Ph.D., is Professor of Theological Studies at Loyola Marymount University in Los Angeles. A long-time Merton scholar, Doug's most recent book, The Insurmountable Darkness of Love: Mysticism, Loss and the Common Life (Oxford) was published in 2022. Doug is founding editor of the journal Spiritus.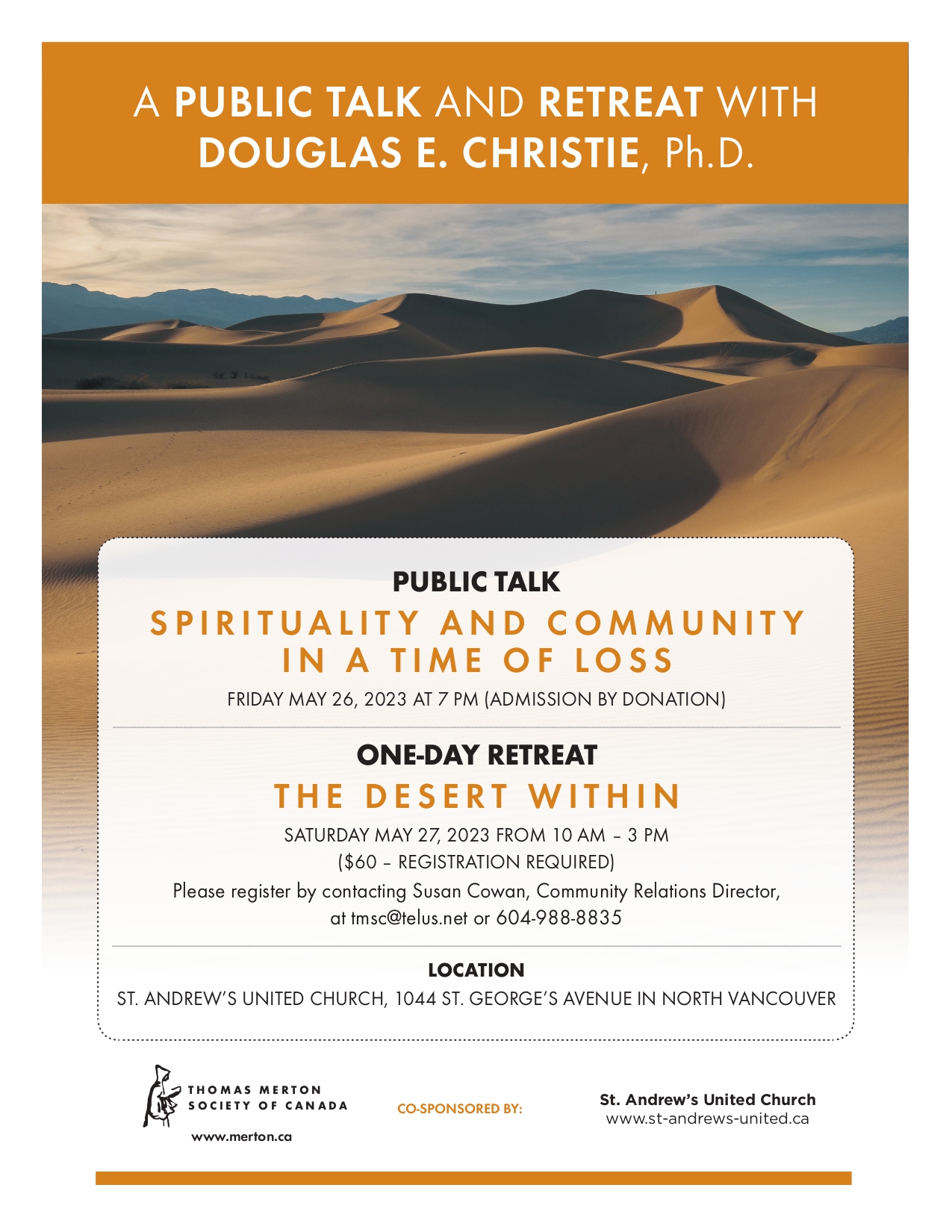 ---
Check out this book of essays by Canadian writers.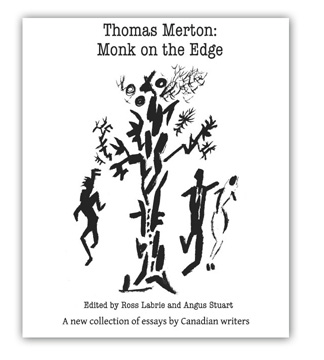 The Thomas Merton Society of Canada has published a book of essays about this internationally acclaimed writer. The book is distinctive and original in that it represents the work of Canadian scholars, many of whom have significant publishing records of their own. These scholars, who have been publishing books and artticles over the years in North America and in the U.K., here offer varied and provocative views of Merton as contemplative, social critic, and poet. Merton is recognized as one of the most important religious thinkers of the last hundred years. The book which is entitled Thornas Merton: Monk on the Edge and which runs approximately 200 pages, is modestly priced at $25.00 (CDN)
Available from: Thomas Merton Society of Canada
1044 St. George's Avenue
North Vancouver BC V7L 3H6