Thomas Merton Society of Canada events, please contact Judith Hardcastle, Program Director or Susan Cowan, Community Relations Director.
For more information:
604-988-8835 or email tmsc@telus.net.
2013/2014 Membership Brochure available here. JOIN TODAY!
---

VANCOUVER SCHOOL OF THEOLOGY and THOMAS MERTON SOCIETY OF CANADA present
2014 Merton Course & Lecture
Course: Wisdom–Sophia in the Life and Theology of Thomas Merton
July 10–12, 2014
Location: St. Andrew's Hall Chapel, 6040 Iona Drive on the UBC Campus.
Visit www.vst.edu for more information and registration
Free Public Lecture: Thomas Merton: Breakthrough to Wisdom and Peace
July 10, 2014 • 7 pm
Location: St. Andrew's Hall Chapel, 6040 Iona Drive on the UBC Campus.
Please join us for a wine and cheese reception at 6 pm, immediately preceding the lecture.
Both the Merton course and lecture are led by Christopher Pramuk. He is Associate Professor of Theology at Xavier University in Cincinnati, OH, and author of Sophia: The Hidden Christ of Thomas Merton (2009), recipient of the International Thomas Merton Society's 2011 Thomas Merton Award. His recent work, Hope Sings, So Beautiful: Graced Encounters Across the Color Line (2013), focuses on racial justice and interracial solidarity in society and church.
---
MAY CONSONANTIA GATHERINGS

Consonantia is the name of several weekend gatherings that encourage participants to develop practices that support their inward and outward spiritual journeys of contemplation and action. You can come to any component of Consonantia—the Friday evening talk; the Saturday morning and afternoon workshops; the community lunch; or the ecumenical contemplative Eucharist that ends the day. The gatherings are offered in collaboration with St. Andrew's United Church. Cost is by donation. Please register for Saturday events through the TMSC in order to facilitate hospitality and workshop planning. Contact Susan Cowan, TMSC Community Relations Director at tmsc@telus.net or 604-988-8835
Click here for the May Consonantia poster

THE Holy in the Ordinary: Celtic Christian Spirituality
Friday, May 9 / 7 – 9 pm
St. Andrew's United Church (St. George's Avenue and 10th Street) in North Vancouver
The early church in northwestern Europe (5th to 10th century) was strongly shaped by the culture of the pre-Christian Celtic peoples. This culture was marked by intricate artistic expression, faith expressed in communal responsibility, rich prayer built on ordinary daily routine, imaginative hero stories, and a profound sense of the holiness of nature. These themes resonate with the spiritual hungers of our own day, and we will explore them in this presentation
Lynne McNaughton is Anglican parish priest at St. Clement's, North Vancouver. She has a doctorate of ministry in Spiritual Leadership from Columbia School of Theology, and taught Christian Spirituality for 13 years at VST. Since 1997 she has led pilgrimages to the Celtic lands--Ireland, Scotland, Wales and Brittany-- with her company, Peregrinatio (www.spiritual-pilgrimage.com). She has also taught Celtic Spirituality with Cree, Oji-Cree, and Blackfoot Elders across Canada who are working to reclaim their own indigenous culture.

Contemplative Photography
Saturday, May 10, 10:15 – 11:45 am; 1:15 - 2:45 pm (repeated in the afternoon)
Location: St. Andrew's United Church, North Vancouver
Thomas Merton transformed his camera into an instrument for contemplation and, in doing so, he himself became an instrument through which the mysterious could be contemplated and expressed.
This workshop will explore how the visual art of photography lends itself to the practice of contemplation and mindfulness. We will reflect on Merton's photography as well as the attitudes of receptivity, curiosity and wonder that characterize the contemplative approach to life, in order to broaden our understanding of how contemplative photography can facilitate a deeper sense of connection to the divine.
Joanne Duma, Ed.D., is a registered psychologist who maintains a private practice in Vancouver. She brings her interest in psychology to the photographic experience through workshops and presentations that aim to broaden our awareness of the interchange between the inner and outer worlds.

Centering Prayer and other Musings
Saturday, May 10, 10:15 – 11:45 am; 1:15 - 2:45 pm (repeated in the afternoon)
Location: St. Andrew's United Church, North Vancouver
"Come, come, whoever you are. Wanderer, worshipper, lover of leaving. It doesn't matter. Ours is not a caravan of despair. Come, even if you have broken your vows a thousand times. Come, yet again, come, come." Rumi
Centering Prayer is based on the wisdom saying of Jesus in the Sermon on the Mount : " … when you pray, go to your inner room, close the door and pray to your Father in secret. And your Father, who sees in secret, will reward you" (Matthew 6:6). Fr. Thomas Keating has jokingly mused that our practice of Centering Prayer is our 'hot date with God' as a way to encourage its relational aspect, and in response to people asking how to make a commitment to their practice. So whether you are a seasoned meditator, an occasional one, or just wanting to try it out, join us to explore this relationship and to show up for your 'hot date with God.' It will be a relaxing, come-as-you-are day. Just bring yourself and your questions, and we will hold a sacred circle that supports you.
Kathleen Symons is a certified instructor of Centering Prayer and has been a practitioner for over 20 years. She is the facilitator of the Contemplative Prayer / Meditation group at Christ Church Cathedral and has studied with both Fr. Thomas Keating and the Rev. Dr. Cynthia Bourgeault. She has a BFA from Emily Carr University, was an Iconographer for over 10 years, and is on the slow train to her Master's in Theological studies. She is also presently enrolled in the three- year Integrative Energy Healing program at Langara College and loving it.

---
THOMAS MERTON IN FRANCE PILGRIMAGE
JUNE 11 - JUNE 21, 2014
Click here to view our brochure for more information
---
Check out this new book of essays by Canadian writers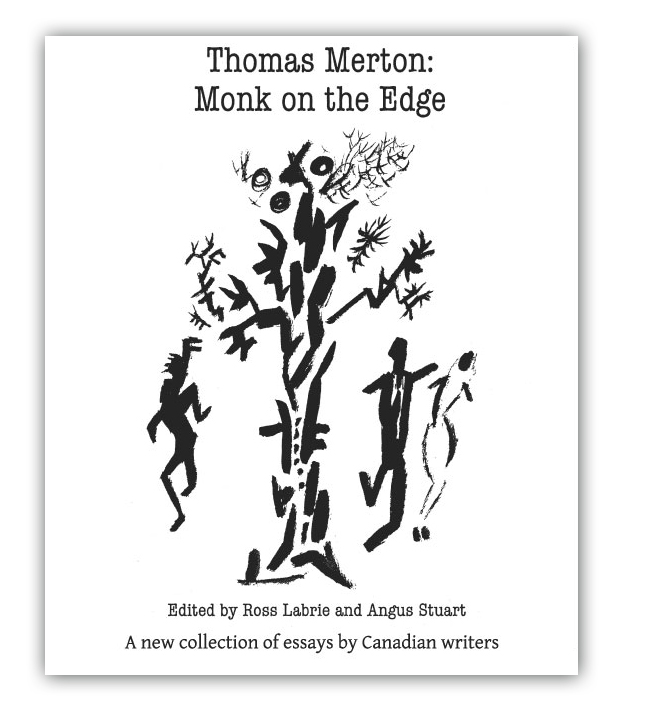 The Thomas Merton Society of Canada has just published a book of essays about this internationally acclaimed writer. The book is distinctive and original in that it represents the work of Canadian scholars, many of whom have significant publishing records of their own. These scholars, who have been publishing books and artticles over the years in North America and in the U.K., here offer varied and provocative views of Merton as contemplative, social critic, and poet. Merton is recognized as one of the most important religious thinkers of the last hundred years. The book which is entitled Thornas Merton: Monk on the Edge and which runs approximately 200 pages, is modestly priced at $25.00 (CDN).
Available from: Thomas Merton Societyof Canada
1044 St. George's Avenue
North Vancouver BC V7L 3H6