Thomas Merton Society of Canada events, please contact Judith Hardcastle, Program Director or Susan Cowan, Community Relations Director.
For more information:
604-988-8835 or email tmsc@telus.net.
2015 Membership Brochure available here. JOIN TODAY!
---
please note: event rescheduled to the fall due to illness
From Rumi to Coltrane: Exploring Conversation as Prayer
Public Talk: Friday, March 6, 2015, 7 – 9 pm (by donation—no registration required)
Retreat: Saturday, March 7, 2015, 9:30 am – 4 pm ($20—registration required as lunch/hospitality included)
In this pair of events, which may be experienced singly as stand-alone, or together as a complementary whole, Angus Stuart and David Belcastro will provide opportunities for participants to discover the art of conversation as a contemplative practice. This practice opens an awareness of a Hidden Presence that is ineffable yet intimate and transformative.
Friday Evening:
It is not as an author that I would speak to you, not as a story-teller, not as a philosopher, not as a friend only: I seek to speak to you, in some way, as your own self. Who can tell what this may mean? I myself do not know. But if you listen, things will be said that are perhaps not written in this book. And this will be due not to me, but to the One who lives and speaks in both!
Thomas Merton, Honorable Reader, p.67
David Belcastro and Angus Stuart engage in conversation with each other regarding what it means to truly listen to another, engage with them and discover the truth that is within oneself. As the conversation develops, others are drawn into the dialogue to experience the conversation as both inner and outer, within themselves as well as with others.
Saturday Silent Retreat:
The deepest level of communication is not communication, but communion. It is wordless. It is beyond words, and it is beyond speech, and it is beyond concepts. Not that we discover a new unity. We discover an older unity. My dear brothers, we are already one. But we imagine that we are not. And what we have to recover is our original unity. What we have to be is what we are.
Thomas Merton, Asian Journal,p.308
In this guided silent retreat, participants are invited to go beyond words to experience something of the wordless communication that is communion. The silence of the day is punctuated by spoken words, as well as the unspoken words of the individual and the sounds of the community and of the city, but these come out of silence and invite us into that deeper silence where communication gives way to communion.
please note: event rescheduled to the fall due to illness
---
2015 Thomas Merton Centenary Events & Happenings
---
Readings in Merton with Angus Stuart
Wednesdays, 7:00 pm, January 14 – February 11
St. Francis-in-the-Wood Anglican Church, 4773 South Piccadilly Road, West Vancouver, British Columbia
For more information see this link
---

Join us for Our 2016 pilgrimage to france to celebrate merton's centennial.
---
Check out this new book of essays by Canadian writers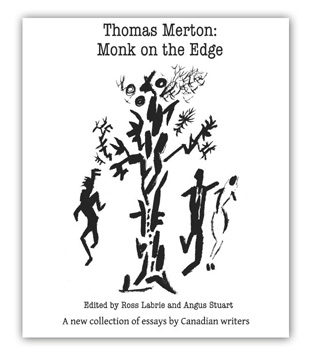 The Thomas Merton Society of Canada has just published a book of essays about this internationally acclaimed writer. The book is distinctive and original in that it represents the work of Canadian scholars, many of whom have significant publishing records of their own. These scholars, who have been publishing books and artticles over the years in North America and in the U.K., here offer varied and provocative views of Merton as contemplative, social critic, and poet. Merton is recognized as one of the most important religious thinkers of the last hundred years. The book which is entitled Thornas Merton: Monk on the Edge and which runs approximately 200 pages, is modestly priced at $25.00 (CDN).
Available from: Thomas Merton Societyof Canada
1044 St. George's Avenue
North Vancouver BC V7L 3H6