Thomas Merton Society of Canada events, please contact Judith Hardcastle, Program Director or Susan Cowan, Community Relations Director.
For more information:
604-988-8835 or email tmsc@telus.net.
2016 Membership Brochure available here. JOIN TODAY!
---
2016 summer PROGRAM EVENTS
---
SUMMER SCHOOL AT VANCOUVER SCHOOL OF THEOLOGY
THOMAS MERTON AND THE WAY OF MERCY
Class Dates: July 7-9 – Thurs 2-4, Fri 9-3, Sat 9-3
The theme of mercy will serve as a lens through which we view Merton's life and writings and consider how his experience of the God of mercy informed his spirituality, his witness to justice and non-violence, and his call to unity though dialogue and mutual understanding. Drawing on a broad selection of Merton's writings across genres, including journals and letters, we will reflect on how Merton maps a pathway to mercy that is so urgently needed in our times.
Dr. Christine M. Bochen is Professor of Religious Studies, William H. Shannon Chair in Catholic Studies, Nazareth College, Rochester, New York. She is co-author of The Thomas Merton Encyclopedia; the editor of Courage for Truth,Learning to Love, and Thomas Merton: Essential Writings; and co-editor of Cold War Letters and Thomas Merton: A Life in Letters. Most recently, she edited The Way of Mercy (Orbis 2016), a selection of essays and reflections on mercy, that includes works by Pope Francis and writers such as Walter Kasper, Leonardo Boff, Dorothy Day, Jim Forest, Joan Chittester, and Thomas Merton.
For full course descriptions and registration, please visit www.vst.edu/summer-school-2016


ANNUAL MERTON PUBLIC LECTURE (FREE)
Co-sponsored by the Thomas Merton Society of Canada and VST

"Thomas Merton's Witness and Challenge: "Mercy, always, in everything, mercy" with Dr. Christine Bochen
Thursday July 7, 7:00pm Epiphany Chapel: 6130 Chancellor Blvd. UBC Campus
---
Check out this new book of essays by Canadian writers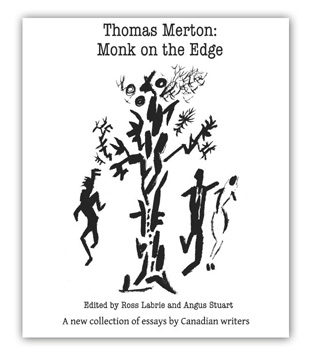 The Thomas Merton Society of Canada has just published a book of essays about this internationally acclaimed writer. The book is distinctive and original in that it represents the work of Canadian scholars, many of whom have significant publishing records of their own. These scholars, who have been publishing books and artticles over the years in North America and in the U.K., here offer varied and provocative views of Merton as contemplative, social critic, and poet. Merton is recognized as one of the most important religious thinkers of the last hundred years. The book which is entitled Thornas Merton: Monk on the Edge and which runs approximately 200 pages, is modestly priced at $25.00 (CDN).
Available from: Thomas Merton Societyof Canada
1044 St. George's Avenue
North Vancouver BC V7L 3H6