Thomas Merton Society of Canada events, please contact Judith Hardcastle, Program Director or Susan Cowan, Community Relations Director.
For more information:
604-988-8835 or email tmsc@telus.net.
2013/2014 Membership Brochure available here. JOIN TODAY!
---

VANCOUVER SCHOOL OF THEOLOGY and THOMAS MERTON SOCIETY OF CANADA present
2014 Merton Course & Lecture
Course: Wisdom–Sophia in the Life and Theology of Thomas Merton
July 10–12, 2014
Location: St. Andrew's Hall Chapel, 6040 Iona Drive on the UBC Campus.
Visit www.vst.edu for more information and registration
Free Public Lecture: Thomas Merton: Breakthrough to Wisdom and Peace
July 10, 2014 • 7 pm
Location: St. Andrew's Hall Chapel, 6040 Iona Drive on the UBC Campus.
Please join us for a wine and cheese reception at 6 pm, immediately preceding the lecture.
Both the Merton course and lecture are led by Christopher Pramuk. He is Associate Professor of Theology at Xavier University in Cincinnati, OH, and author of Sophia: The Hidden Christ of Thomas Merton (2009), recipient of the International Thomas Merton Society's 2011 Thomas Merton Award. His recent work, Hope Sings, So Beautiful: Graced Encounters Across the Color Line (2013), focuses on racial justice and interracial solidarity in society and church.
---
APRIL CONSONANTIA GATHERINGS

Consonantia is the name of several weekend gatherings that encourage participants to develop practices that support their inward and outward spiritual journeys of contemplation and action. You can come to any component of Consonantia—the Friday evening talk; the Saturday morning and afternoon workshops; the community lunch; or the ecumenical contemplative Eucharist that ends the day. The gatherings are offered in collaboration with St. Andrew's United Church. Cost is by donation. Please register for Saturday events through the TMSC in order to facilitate hospitality and workshop planning. Contact Susan Cowan, TMSC Community Relations Director at tmsc@telus.net or 604-988-8835
Click here for the April Consonantia poster

PRAYING WITH ICONS
Friday, April 11 / 7 – 9 pm
St. Andrew's United Church (St. George's Avenue and 10th Street) in North Vancouver
Facilitator--Jeannette Stigger: "I am an Anglican priest, retired, living in Burnaby. Some while ago, the connection between art and spirituality became increasingly significant for me. I began to understand that what I saw in a picture was less important than what the picture saw in me. This is especially true of icons. I took a course in icon-writing at Sorrento and was hooked! My hope for this evening is that you, the participants, will grow as I have to love and learn from icons and to allow yourselves to pray with them."

AUDIO DIVINA
Saturday, April 12, 10:15 – 11:45 am; 1:15 - 2:45 pm (repeated in the afternoon)
Location: St. Andrew's United Church, North Vancouver
Audio Divina© (sacred listening) is a music-assisted form of contemplative prayer practice, developed by Mary Terry Rankin in 2003 while she was completing a post-graduate degree at the Vancouver School of Theology. Mary, a spiritual director in Blaine, WA, with a background in music therapy (The Bonny Method of Guided Imagery and Music), drew on music therapy principles and the ancient Christian prayer-form of Lectio Divina (sacred reading), to provide the structure for Audio Divina. The workshop will include 2 meditation sits using both Audio Divina programs, with a time in between for reflection and personal sharing.

Susan DuMoulin, recently retired after 14 years as the Designated Lay Minister of Pastoral Care for Canadian Memorial United Church & Centre for Peace, is currently serving part-time as the Chaplain for the United Church students at the Vancouver School of Theology. She also has a Private Counselling and Spiritual Guidance Practice and for 17 years has co-facilitated Centerpoint Spiritual Pilgrimage: Contemplative Wisdom Circles in which Audio Divina has been practiced.

SILENCE AS A SPIRITUAL PRACTICE
Saturday, April 12, 10:15 – 11:45 am; 1:15 - 2:45 pm (repeated in the afternoon)
Location: St. Andrew's United Church, North Vancouver
In this workshop, we will be exploring together the fruit that can come with spending time in silence, along with various ways to approach our times of solitude. We will have an opportunity to learn from some of the mystics and to share our own experiences.

Kathi Bentall is a spiritual director and retreat facilitator. She was the co-founder of the Listening Post in Vancouver's downtown eastside and is also a community member of the Rivendell Retreat Centre on Bowen Island. She leads silent retreats at Rivendell throughout the year.

---
THOMAS MERTON IN FRANCE PILGRIMAGE
JUNE 11 - JUNE 21, 2014
Click here to view our brochure for more information
---
Check out this new book of essays by Canadian writers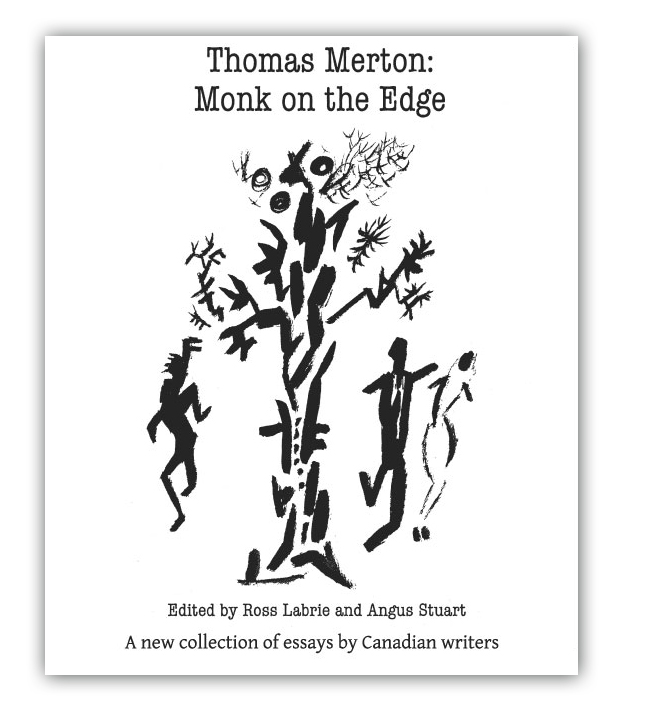 The Thomas Merton Society of Canada has just published a book of essays about this internationally acclaimed writer. The book is distinctive and original in that it represents the work of Canadian scholars, many of whom have significant publishing records of their own. These scholars, who have been publishing books and artticles over the years in North America and in the U.K., here offer varied and provocative views of Merton as contemplative, social critic, and poet. Merton is recognized as one of the most important religious thinkers of the last hundred years. The book which is entitled Thornas Merton: Monk on the Edge and which runs approximately 200 pages, is modestly priced at $25.00 (CDN).
Available from: Thomas Merton Societyof Canada
1044 St. George's Avenue
North Vancouver BC V7L 3H6