Thomas Merton Society of Canada events, please contact Judith Hardcastle, Program Director or Susan Cowan, Community Relations Director.
For more information:
604-988-8835 or email tmsc@telus.net.
2016 Membership Brochure available here. JOIN TODAY!
---
2017 EVENTS
---
Vancouver School of Theology presents:
"…WITH CHRISTIAN MANTRAS AND A GREAT SENSE OF DESTINY…": THOMAS MERTON'S TRAVELS IN EASTERN RELIGIONS
July 3-7, 2017: 9am-12pm
View outline (PDF)
After introducing Merton's life and thought, we shall survey the chronology and extent of his interest in Eastern religions. We will touch on Hinduism and Taoism, but our focus will be Buddhism, exploring what Merton did and did not know about its traditions and how it influenced his aesthetics, his prayer practice, and his poetry. We conclude with Merton's principles of inter-religious dialogue and their relevance to own conversations with those who believe differently.
Students with no prior knowledge of Merton are advised to read Thomas Merton: Essential Writings (Christine M. Bochen, ed., Orbis Press, 2000) before the course. Those having no acquaintance with Buddhism might read Walpola Rahula's What the Buddha Taught.
Bonnie Thurston's Ph.D. is from the University of Virginia. Hers was an early doctoral dissertation on Thomas Merton. A university or seminary professor for many years, she has written or edited nineteen theological books. A founding member of the International Thomas Merton Society, she served as its third president, and received a "Louie" award for service to the Society. She has published extensively and given retreats and lectures on Merton in the U.S., Canada, the U.K. and Europe. She edited Merton And Buddhism, Hidden in the Same Mystery: Thomas Merton & Loretto (both with Fons Vitae) and Thomas Merton on Eastern Meditation (New Directions).
---
KEVIN BURNS
MONDAY, MAY 1, 6:00PM–8:00PM, ROOM 7000, SFU HARBOUR CENTRE
Co-sponsored by SFU's J.S. Woodsworth Chair in the Humanities & Thomas Merton Society of Canada
"WHAT IS THIS TERRIFIC IMPORTANCE THAT MEMORY SEEMS TO HAVE FOR ME?"
This live documentary presentation explores Merton and memory. Visiting seven "rooms" of remembering we will encounter Merton's shifting ideas on memory and how we remember him today. Memory is a fragile network of connections: virtual, conjectural, and – increasingly – digital. Ideas from classical times and contemporary memory-building techniques will guide us.
This is a hybrid presentation that takes the form of a "live" radio documentary, an illustrated lecture with art and photography and evocative music transitions. It explores the preoccupation that Thomas Merton had with memory and how his published works form an extended "remembered" autobiography. His focus on memory reveals much about Merton the artist and also Merton the Cistercian. The presentation sets Merton's preoccupations with memory in the context of the different memory building ideas and practices within the monastic tradition that he was part of. Think if it as a live "Ideas" program you haven't heard yet.
The presentation is just over an hour, leaving a time for Q&A to follow.
SPEAKER
Kevin Burns is a Canadian writer, editor, and award-winning freelance radio documentary producer (CBC Radio's Ideas). Previous ITMS presentations include: Beyond the Shadow and the Disguise (1999) and Invisible Light (2001). He is the co-author with Michael W. Higgins ofGenius Born of Anguish - The Life and Legacy of Henri Nouwen (2012). His most recent publication, Henri Nouwen: His Life and Spirit, was published by Franciscan Media in 2016.
---
Thomas Merton and John Moriarty: Epic Visionaries of Human Unity
A public talk and a retreat co-sponsored by the Thomas Merton Society of Canada and Canadian Memorial United Church & Centre for Peace
Public Talk – Fri. March 10, 2017 @ 7 pm
Location: Canadian Memorial Centre for Peace, 1825 West 16th Avenue, Vancouver, BC
The prolific monk of Kentucky and the sociable recluse of Kerry have much in common: an enlightened if not prescient eco-spirituality, a well mined Celtic heritage, a shared critique of the consequences of a mindless technologism, and a poet's love of words.

Retreat – Sat. March 11, 2017, 9:30 am – 3:30 pm
Location: Canadian Memorial Centre for Peace, 1825 West 16th Avenue, Vancouver, BC
We will explore the rich connections that exist between Merton and Moriarty, read some of their select passages, listen to their recorded voices, and investigate some of the shared themes of their work, especially the need for silence and contemplation, communion with nature, and an alternate vision to the dominant scientific-technological worldview.

Michael W. Higgins, a native Torontonian, is an author, scholar, Vatican Affairs Specialist for The Globe and Mail, Papal Commentator for the CTV Network, educator, CBC Radio documentarian, columnist, and former senior academic administrator.

He has served as President and Vice-Chancellor of two Canadian Catholic universities, St. Jerome's University in the University of Waterloo, Ontario, and St. Thomas University, Fredericton, New Brunswick, and as Vice-President for Mission and Catholic Identity at Sacred Heart University in Fairfield, Connecticut.

He is currently Distinguished Professor of Catholic Thought at Sacred Heart University.
He has edited, co-authored and authored scores of books including The Jesuit Mystique, Power and Peril: The Catholic Church at the Crossroads, Heretic Blood: The Spiritual Geography of Thomas Merton, The Muted Voice: Religion and the Media, Stalking the Holy: The Pursuit of Saint-Making, Suffer the Children Unto Me: An Open Inquiry Into the Clerical Sex Abuse Scandal, Genius Born of Anguish: The Life and Legacy of Henri J. M. Nouwen, The Unquiet Monk: Thomas Merton's Questing Faith, Jean Vanier: Logician of the Heart. Several of these books have been translated into French, German, and Italian, many have won awards and been national bestsellers.

A columnist over the years for The Toronto Star, Telegraph-Journal, The Record, and The Catholic Register on media matters, literary issues and Catholicism, he currently has a monthly column on the American Church for the Dublin-based Irish Catholic. He is also a regular contributor to Commonweal (New York), The Literary Review of Canada, and The Tablet (London).

He is the recipient of many awards, including two honorary doctorates, the 2013 Gold Medal for International Radio Documentaries awarded by the New York Festivals, is a Senior Fellow at Massey College, University of Toronto, an International Fellow of the Chester Ronning Centre for Religion and Public Life, University of Alberta, and an Affiliate Graduate Professor of the Oblate School of Theology in San Antonio, Texas.

He is married to Krystyna, a liturgical musician and writer, and they have four adult children.
---
Check out this new book of essays by Canadian writers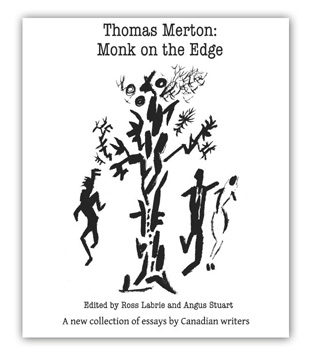 The Thomas Merton Society of Canada has just published a book of essays about this internationally acclaimed writer. The book is distinctive and original in that it represents the work of Canadian scholars, many of whom have significant publishing records of their own. These scholars, who have been publishing books and artticles over the years in North America and in the U.K., here offer varied and provocative views of Merton as contemplative, social critic, and poet. Merton is recognized as one of the most important religious thinkers of the last hundred years. The book which is entitled Thornas Merton: Monk on the Edge and which runs approximately 200 pages, is modestly priced at $25.00 (CDN).
Available from: Thomas Merton Societyof Canada
1044 St. George's Avenue
North Vancouver BC V7L 3H6